What are veneers?
A veneer is a layer of material that's placed over a tooth to improve the overall look and protect the tooth surface area from damage. Teeth will not need to be filed down or removed to complete this procedure. In most cases it is a painless process to achieve a brighter, more even smile.
What are veneers made out of?
Veneers are made out of two types of material: composite and dental porcelain. Veneers adhere strongly to the tooth surface. With good dental hygiene, veneers can last for many years.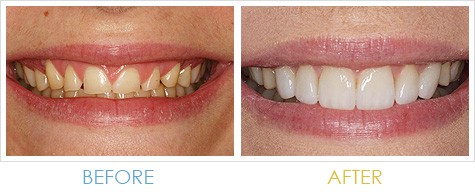 Why would patients get veneers?
Veneers may be a cost-effective option to give your smile a lift and replace discoloured, crooked or gappy teeth. Dental veneers can help with:
Discoloured teeth – when replacing a full smile with veneers it is easy to evenly hide the discolouration of one or two teeth so they match neighbouring teeth
Crooked teeth – uneven and twisted teeth can be fixed with veneers. Your teeth are trimmed slightly to fit a set of veneers that are perfectly aligned with your smile
Gaps – some smiles have small spaces or gaps between teeth. Veneers can fill the gaps to make the teeth look seamlessly spaced
Dental veneers are sometimes considered as an alternative for patients instead of dental crowns.  Veneers last just as long, are strong and look completely natural, just like a crown.  The advantage of a veneer verses a crown is that the tooth needs hardly any preparation when creating a veneer.
Our high-tech labs can engineer dental porcelain veneers that insert seamlessly into the gum line and surface to give you the confidence to smile again.
View more in Dr Linc's Smile Gallery Here.
Dr Linc (Meet Dr Linc) is available at Harris Dental Boutique Bargara dental practice near Bundaberg, Monday to Friday at Shop 2/16 See Street Bargara Q 4670. There are usually appointment times available each day to see new patients or dental emergencies.  Give the front office team a call on 07 41590 660 to organise a time that suits you, contact us for more information or book an appointment with Dr Linc in Bargara near Bundaberg.
Dental Veneers